Support Forums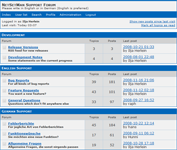 If you need help or if you have questions or any kind of comments, please use our Support Forums. There you'll also find answers to questions of other users.
A quick registration is required, which will ensure that you'll be notified as soon as a reply is posted to your comment.
Before posting in the forums please make sure to check the FAQ!
If you're completely new to NetSetMan, have a look at the help file first!
Help File / Software Description
A detailed help file comes with the program. The latest help file is also available online so you can have a direct look at the features of NetSetMan (Pro). Simply choose your language below!
Official Languages:

English

German
Official Translations:

Bulgarian

Chinese (Simpl.)

Chinese (Trad.)

Czech

Danish

Spanish

French

Greek

Hebrew

Croatian

Hungarian

Indonesian

Dutch

Polish

Serbian

Russian

Swedish

Ukrainian
Machine Translations:

Arabic

Bengali

Portuguese (Br.)

Georgian

Hindi

Italian

Japanese

Korean

Malay

Portuguese

Turkish

Vietnamese
If you'd like to translate NetSetMan into another language please
get in contact
!
FAQ
By default the Windows WMI interface isn't used any longer after version 3.4.0, because on some systems it wasn't working reliably, which resulted in activation problems. Make sure the old method is deactivated in the preferences. For new installations it's deactivated by default.
Preferences › General › [ ] Use WMI IP activation method
---
If you're using an outdated version, here are some advices concerning WMI problems:
NetSetMan uses the Windows WMI interface since version 2.0. If the activation process in NetSetMan stops with the message "Activating..." then this interface might be disabled or corrupted.
There can be different reasons for this failure so there are different possibilities how to solve it. Therefore several solution methods are described below. Follow these instructions one by one. After each attempt try if the problem has been solved already. All commands can be executed by Windows command line (Start > Run > cmd). Particularly with Vista/7 you'll need to run it with administrator privileges. (Start > Type cmd > Right-click the result > "Run as administrator").

Method 1: Check WMI Service
The WMI Service is required. Check if it's running.

Open the Services dialog. (Start > Run >

services.msc

)
Find Windows Management Instrumentation. (name may differ in other languages)
Check if the Startup Type is set to Automatic and Status to Started.
If it's already running then the WMI Repository might be corrupted and should be fixed by one of the following methods.

Method 2: Repair WMI
In the simplest case, the following command (that is different for each OS) will solve the problem:


Vista/7:

winmgmt /salvagerepository

WinXP (SP2):

rundll32 wbemupgd, UpgradeRepository

Win2000:

rundll32 wbemupgd, RepairWMISetup

Method 3: Recreate WMI Repository
If repairing didn't help, try recreating the WMI Repository.

First stop the service mentioned above (Right-click > Stop)
Then remove the Repository folder by renaming it to keep a backup:


rename %SystemRoot%\System32\wbem\Repository Repository.backup

Now reboot to recreate the files automatically.


Method 4: Re-register WMI components
All .dll and .exe files used by WMI are located in %windir%\system32\wbem and may need to be re-registered. In case of a 64bit OS this might be affected as well: %windir%\sysWOW64\wbem.
To re-register the components execute those three commands one by one:


cd /d %windir%\system32\wbem

for %i in (*.dll) do RegSvr32 -s %i

for %i in (*.exe) do %i /RegServer

Method 5: Complete WMI re-installation
If none of the previous methods helped or if the WMI service is not available at all, a complete WMI re-installation is required.


Insert your Windows CD. It must include the installed Service Pack!
Click Start > Run > Type:


rundll32.exe setupapi,InstallHinfSection WBEM 132 %windir%\inf\wbemoc.inf

Reboot.
---
This can have lots of different causes. Therefore there are several possible solutions.
First of all you should take a look into the log which is available at a click on the "-" at the bottom of the Activating window. It might give you some useful information.
Each point is an individual solution approach so you don't have to perform all operations at once. In most cases even the first or the second point will solve the problem.
Make sure the status of the following services is Started and the startup type is set to Automatic.
(Start > Run > "services.msc")
DNS-Client
DHCP-Client
DCOM Server Process Launcher


Have a look at your Hosts file: %SystemRoot%\system32\drivers\etc\hosts
It shouldn't be bigger than a few kb.
If it is too big, clear it.

You can open it with a text editor to view its content.
It usually contains only the following line:
127.0.0.1 localhost

There are several programs which add up to several thousand lines in here to "protect you from advertisements or spyware". In fact blowing up the hosts file slows your system down. Just keep your Hosts file clean or at least don't add more than a few hundred entries.


Try to restart the DNS cache:
net stop dnscache
net start dnscache


If there's a bigger problem with your network you can use the tiny tool WinSock XP Fix 1.2. It fixes several common network problems with one click.


Re-/Install new drivers for your network adapter.
Changing network settings is an administrative procedure. Therefore NetSetMan generally requires administrator privileges to work correctly. For this reason the integrated Windows service "NSM Service" has been created. Starting with Version 4.0 this Windows service is automatically enabled during the installation to automatically provide NetSetMan with the required privileges. In previous 3.x versions this service has to be activated manually in the program preferences.
The NSM Service accomplishes the following tasks:
No UAC prompt at program stArt.
The program can be used with a limited Windows user account.
Optional profile switching from the Windows logon screen. This feature can be activated at

Preferences › System Privileges

, if required.
In case you're using an outdated or portable version or if you have deactivated the service for some reason there are a couple of alternatives:
Using an Administrator account in Vista or later: Manually confirm the UAC prompt at every program stArt.
Using a limited account: At program start you'll receive a message recommending that you install the NSM Service. Alternatively, you can choose the option at the bottom of that dialog to store credentials of some local Administrator account that NetSetMan will then use. Notice that in this case the program will run in the user context whose credentials were provided. This option should only be used in some very specific cases.
Task Scheduler startup execution: If you'd like to execute NetSetMan at startup and only wish to get rid of the UAC prompt, you can try the following workaround:
Start › "Task Scheduler" › Choose "Create Task" from the right panel › Under "Triggers" click "New..." and choose "At log on" › Under "General" check "Run with highest privileges" › Under "Actions" set the program path to NetSetMan and enter "-h" as the argument, so that NetSetMan is started minimized. Make sure to deactivate the auto-start setting in NetSetMan's preferences!
An extended description of this procedure with screenshots can be found here.
The AutoSwitch feature enables you to automatically activate profiles based on predefined conditions like surrounding wireless networks, network locations, adapter states, or time frames.
Please make sure to read this chapter in the help file as it contains all the basics and details you need to know to get started. Once you've gotten familiar with the functionality, you should be able to address almost all thinkable use cases.
Additionally, it might be helpful to understand the following background details:
Network Events: Depending on the configured conditions NetSetMan creates system event handlers so that it's able to react to related changes on your system and in your network. This means that using AutoSwitch won't slow down your system by constantly scanning for changed parameters. This also means that NetSetMan depends on those system events, so that sometimes it might take a moment longer for the profile activation to be initialized. For example, if you unplug your LAN cable, Windows will take a couple of seconds to realize that. You'll notice that your network icon won't be crossed out immediately. The moment when this icon changes is when NetSetMan receives a notification about a network change and can react to that.
Priorities: As soon as NetSetMan receives a relevant network change notification it starts comparing the current network information with the conditions configured in its profiles. Starting with the first profile (ID 0) the sequence continues in ascending numerical order until a match is found (or nothing matches at all). This means that profiles with lower IDs have a higher priority (you can change the profile order in the Profile Management. So, if the conditions for profile #2 and profile #6 are met, only profile #2 will be activated.
Cancelling/Skipping: By cancelling an automated profile activation that profile will be skipped as long as the matching network conditions don't change. As soon as its conditions aren't met anymore it's removed from the internal skipped profiles list.
Active Profile: If the first profile that matches its conditions is the current profile (= latest manually or automatically activated profile) it won't be activated again. This also applies if you restart the application (or the system).
New Option in v4.2.0: "At program startup, check conditions regardless of last profile activation"
AutoSwitch Status: By clicking the AutoSwitch info button (or viewing its tooltip) you'll receive the current AutoSwitch status. This is helpful if you want to find out details about it.

What is IPv6?
The Internet Protocol (IP) as you currently know it has an address format like 192.168.0.1 and is officially called IPv4. Generally speaking, that's what makes your local network and also the Internet work. After about 30 years of existence there are new requirements that can only be met by a new version of that protocol: IPv6. It covers everything we need today and a long time ahead. IPv6 is quite easy to recognize, since it has a complete different syntax like fe80::21c:23ff:fe9c:efd3/64.
Do I need it?
If you've never heard about it until now you probably don't need it for now. However, there are already use cases right now. If you're a pioneer in the IPv6 area you might want to use the IPv6 features that NetSetMan has to offer.
What IPv6 features does NetSetMan have?
You can assign manual address configurations in profiles. Additionally, you can generate valid IPv6 addresses based on the selected IPv6 types.
What do I need to use IPv6?
If you have Windows Vista or later, IPv6 is already a part of your operating system.
If you're using XP, you need to have SP1 (better SP2/SP3) installed. IPv6 is then installed in a deactivated form. If you really want to use it, you need to activate it by opening the command line (Win+R › "cmd.exe") and typing:
netsh interface ipv6 install
If you change your mind at a later point, you can always deactivate it again by typing:
netsh interface ipv6 uninstall
NetSetMan Pro offers a feature for adding a computer to a domain. Follow the short instructions to make use of it.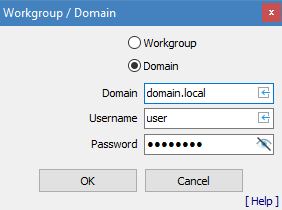 Check the "Domain/Workgroup" checkbox, click "[...]" and select "Domain".
Enter the domain name. (e.g. "domain.local")
Enter the user name. (e.g. "user")
Usually it's enough to enter the plain user name. If you get an error you can try entering one of the two following standards as your user name:
a) NETBIOS: DOMAIN\user
b) UPN: user@domain.local

Enter the password for that user name.

If you're using XP or Vista and get an error message during the profile activation or you are not connected properly to the domain then please do the following additional steps for the alternative method:
Download this zip-file.
Extract its content to the program folder of NetSetMan Pro. It will automatically detect and use it instead of its own domain functions.
Important Notices:
In NT domains a user can only be member of exactly one domain at the same time. This means that by joining another domain or a workgroup your membership in the previous domain is lost until your system is rejoined.
NetSetMan Pro can only join you to a domain if your domain user account has the permission to do so. This user account privilege is called "Add Workstation to Domain" and must be enabled on your account. If you don't have this privilege, please ask your network administrator to grant you that.
Using the domain feature might add a domain functional level information to the logon screen, so instead of "domain.local" you'll see "domain.local (Windows 2000)". If you want to remove this information again (although it has no effect on the functionality), you need to delete the registry key "DCacheShowDomainTags" from [HKLM\SOFTWARE\Microsoft\Windows NT\CurrentVersion\Winlogon].
For Windows 7 and later PowerShell 2.0 is used to join a domain. You'll recognize its use by the output "PS" in the log. PowerShell 2.0 is also available for earlier Windows versions. However, it needs to be installed manually which is not recommended for novice users due to a high level of difficulty.
How do I distribute the settings?
NetSetMan uses the file "settings.ini" to store all profiles and program settings. Some facts worth knowing:
The file is located directly in the program folder.
You only need to backup this file to include all profiles and program settings. In case you're using the NSM Administration you'll also need to backup its separate preferences that for security reasons are stored in the registry:

HKLM\Software\NetSetMan

(x64:

HKLM\Software\Wow6432Node\NetSetMan

)
Each NIC on any system has its own unique ID allowing to allocate it directly. Therefore copying the settings file to another system makes the included NIC list inoperative. However, NetSetMan will automatically update this list keeping all assignments in the profiles,

if

the required NICs are named exactly the same on the second system as on the first one. To change NIC names go to

Windows Control Panel › Network Connections

.
So make sure the NIC names are identical on all systems before distributing the file settings.ini.
You can deploy a prepared settings file automatically during the installation using a certain parameter or location.
How do I distribute the licenses?
As of version 4.x the registration is performed using a custom license file (
*.nsmp4
) that you receive with your order as an email attachment. After an installation of NetSetMan Pro a dialog will prompt you for that license file. No further steps are required for the registration process.
After this step the license information is taken from the license file and is stored in a system-bound form (
lic.dat
) in the program folder. Copying this file to another system will automatically make it invalid. This means that the end user won't be able to transfer the license without your consent.
You can deploy the license file automatically during the installation using a certain parameter or location.
Archived: License distribution for version 3.x (English)
NetSetMan Pro saves the license information in the file "lic.dat" directly in the program folder. Some information worth knowing:
The file lic.dat is system-bound. Instead of the serial number it contains two different hash codes. It is not possible to retain the actual serial number from this information. If you copy this file to another system, you will be required to enter the serial number once again. This makes it impossible to steal it from your system by an unauthorized person.
Accordingly it is not possible to distribute a normal license file in your company network to all clients you own a license for. Since version 3.0.2 there's a solution for this, too. You have the possibility to create a master license file to make the distribution of a large license package in your company network much easier.

Simply follow these steps:

Copy the following content into an empty text file (e.g. using Notepad):

[settings]
RegName=
RegEmail=
RegLicenses=
RegSerial=

Enter the license information in each line after the according equal-sign exactly as you received it. Make sure that none of the values begins or ends with space characters!
Save the file as "lic.dat" somewhere outside the program folder. This is now already your master license file!
In case you have already registered the program on the current system skip this step: Copy that file into the program folder and run NetSetMan Pro. The license dialog should not appear. At the first start the master license file will be converted into a normal, system-bound license file. It can't be copied to other systems anymore.
Configure NetSetMan Pro as you require it. Create profiles and set up all settings. As soon as you are done exit the program.
Now copy the master license file again into the program folder overwriting the existing one. Now do not run the program anymore!
This program folder now contains the program, the set-up configuration file and the master license file. It can now be distributed to other systems without having to enter the license information again manually.
What administration options are there?
Using the integrated NSM Administration you have some very detailed options to define what the user is allowed to do with the software. You'll find instructions for this in the
help file
.
Command line parameters
Setup:
The following parameters can be used with NetSetMan Pro 4.x to create automated (remote) installations. Multiple parameters can be combined.
Installation without user interaction, with visible installation progress (also v3.x):


/SILENT

Hidden installation without user interaction (also v3.x):


/VERYSILENT

Installation of "NSM Service":


/SERVICE=true/false

(Default: true)


/LOGON=true/false

(Enable Pre-Logon Profile Switching; Default: false)
Miscellaneous:


/AUTORUN=true/false

(Run minimized when user logs on; Default: true)


/UPDATECHECK=true/false

(Check for updates at program start; Default: true)
Including a license, settings and logo file with absolute, relative or network paths:


/LICENSE="C:\Full Path\license-file.nsmp4"

(NetSetMan Pro 4.x license file)


/SETTINGS="prepared-settings-file.ini"

(Prepared settings file)


/LOGO="\\server\company-logo.png"

(License packs with 30+ licenses allow the inclusion of a company logo)
Files will be copied to the program folder so they don't need to remain in their original location after the installation.
Tip: Instead of passing the file paths as parameters you can also place the prepared files into the same folder as the Setup.exe naming them as follows:


license.nsmp4

,

settings.ini

,

logo.png



NSM Service:
As of version 4.x the integrated Windows service is installed and activated automatically. Manual control (for older versions) is possible using the following commands.
Installation / Uninstallation (

/SILENT

= without user interaction):
[installation path]\nsmservice.exe /INSTALL /SILENT
[installation path]\nsmservice.exe /UNINSTALL /SILENT
Manually start or stop the service:


net start nsmService




net stop nsmService
Application:
Command line parameters for the main application are listed in the
help file
.