NetSetMan 4.7.2
(⇒ What's new?)
Are you tired of manually changing your location-based network
and system configuration on your laptop computer every day?
Then NetSetMan is your solution. It will do the work for you.
Switch between configuration profiles for different locations instantly!

Stay Up-To-Date!

Read the changelog

Like NetSetMan on Facebook

Subscribe to the RSS feed

Subscribe to the newsletter

Download NetSetMan
Features
NetSetMan is a network settings manager software which can easily switch between your preconfigured profiles!
Feature-List

NC-Free

Pro
Settings
IP Addresses

IP, Gateway, DNS, WINS - Multiple IPs per NIC - IPv4 & IPv6!

 
 
WiFi Management
Computer Name

Different computer names for different locations

Workgroup

Change your workgroup on the fly!

Default Printer

Your print jobs will always be sent to the right printer now

Network Drives

Map and disconnect network locations as local drives

DNS Suffix

Complete configuration possibilities as known from Windows

Route Table

Add, delete or change the entries in your local IP routing table

SMTP Server

Dynamically change the outgoing server of your email client

Hosts File Entries

Map hostnames to IP addresses

System Settings

Display Mode, Screensaver, Wallpaper & Color, Power Plan, Design & Sound Scheme, Speakers & Microphone Volume, Time Zone, Windows Firewall, Windows Update

MAC Address

Expert setting: Only change the hardware address of a NIC if you really know what you're doing!

NIC Status

Activate, deactivate or restart your network adapter

Protocol Bindings

Enable/disable NIC protocols like IPv6, File & Printer Sharing, etc.

LAN Settings (Speed/Duplex, MTU, VLAN, …)

Speed/Duplex, MTU (Jumbo Packet), Flow Control, VLAN ID
These settings are driver-specific and are available for compatible NICs

Connections (RAS/DUN/PPP/VPN)

Connect to and disconnect from stored connections

Scripts (BAT, VS, JS, …)

Extend the functionality to your custom needs! (UAC: restricted or elevated without prompt)

Program Execution

Start/stop, UAC (restricted or elevated without prompt), maximized/minimized ⇒

Details

Proxy

Individual configurations for all available browsers

[Example]

:

Windows/Internet Explorer (IE): Full support

Firefox: Full support (incl. profiles)

Opera (<= v12): Full support (incl. profiles)

Opera (>= v15): Doesn't support own proxy settings; uses IE settings

Chrome: Doesn't support own proxy settings; uses IE settings

Browser Home Page

Support for IE, Firefox & Opera

Network-Domain
General
AutoSwitch

Automatically activate profiles

based on conditions

: Surrounding WiFi networks, Network Location Awareness, Gateway MAC, Ping, NIC status, Time frame

Tray-Info for all current IP settings

Quickly check all your IP settings without a single click!

Tray-Menu for quickly switching profiles

Activate a profile with one click from the tray icon!

NSM Service for usage without admin privileges

Allows using NetSetMan with limited user accounts

Pre-Logon profile switching

Switch settings even before logging on!

[Example]

(Compatible settings: IPs, WiFi, NIC status, workgroup & domain, display resolution, PC name, firewall, SMTP, hosts, scripts)

Administration for defining permissions

Password-protection for deciding what a default user is

allowed to do

Command line activation

Parameters

to activate profiles by command line and shortcuts

NEW: Tool "Network Scanner"

Feature-rich, multi-threaded, IPv4 & IPv6 scanner that gathers details from remote devices and printers like name, group, MAC address, shares.

Find out more!

Tool "Console" (ping, tracert, nslookup, netstat…)

All important Windows network commands combined in a comfortable UI

Tool "Adapters Details"

IDs, options, drivers, types, speed, MACs, IP settings, etc. of all network interfaces in one overview

Quick access to frequently used Windows locations

With one click to Internet Options, Control Panel, etc.

Two different user interfaces (Full & Compact)

Once you've set up your profiles, switch to the compact UI!

Commercial Use / Can be used at work

The Freeware version is for non-commercial use only!

Thank you for respecting the

license agreement

.

Profiles
6
Unlimited
Price
Free
19-29€
NetSetMan offers what you've been missing in Windows until now: A powerful, easy-to-use interface to manage all your network settings at a glance. Give it a try and you'll never want to be without it again.
Activate a stored profile with one click or even completely automatically!
Download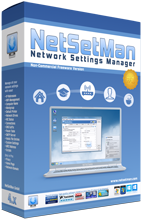 NetSetMan 4.7.2 (4MB)
3in1: Setup, Update & Portable in one file!
License: Non-Commercial Freeware
Release date: 2019-11-08
Language: Multilingual
For Windows: XP/Vista/7/8/10 (32/64 Bit)
Updating from version 3.x?
License
NetSetMan is Freeware for non-commercial use.
You may use NetSetMan for free as long as you don't save paid work time. Any commercial use (at work, company notebook, etc.) requires a NetSetMan Pro license.
For detailed information please refer to the NetSetMan Software License Agreement