NetSetMan 5.x
What's new in this version?
5.0.6 - 2021-05-31

- Fix: AutoSwitch thread error after standby
- Fix: AutoSwitch options might have been hidden due to incorrect alignment
- Fix: Systems with many WiFi profiles could lead to UI performance issues
- Fix: Error deleting the last remaining profile group
- Fix: Position of a new group might have been saved incorrectly
- Fix: "Connect by MAC address" failed if no name/description was provided
- Fix: TAB keyboard navigation order
- Fix: Windows firewall status setting not applied correctly
- Fix: Protocol Bindings for systems with multiple NICs using the same driver
- Fix: High Contrast Mode support adjustments
- Fix (Pro): License registration issues in rare constellations
- Tools: Network Scanner now shows the device description/comment as a name tooltip
- Performance improvements for selecting and viewing profiles
- Improved AutoSwitch performance and compatibility
- AutoSwitch NIC Status condition now also supports special types of VPN connections
- WiFi Management remembers last selected NIC if multiple are available
- Added shortcuts for Compact/Full Mode (CTRL+M) and main sections (CTRL+1/2/3/4)
- In Logon mode, the Save button now saves the activation log in the Logs subfolder
- Minor fixes and adjustments
5.0.5 - 2021-02-04

- Fix: Screensaver delay setting wasn't saved correctly
- Fix: AutoSwitch visibility setting for activation dialog
- Fix: Showing Tray Info on top of other foreground dialogs
- Fix: Opening the application from tray icon might have failed
- Fix: Minor Tray Icon performance issues
- Fix: Using "AnyLAN" and "AnyWLAN" in a prepared settings file
- Fix: Updating NIC GUID in AutoSwitch conditions when copied to another system
- Fix (Pro): Rare license registration issue in VMs
- Fix (Pro): Automatic license deregistration during uninstallation
- Translation updates
- Minor fixes and adjustments
5.0.4 - 2021-01-25

- Fix: Profile activation didn't use recent modifications of IPs in UI
- Fix: Error 1219 with connected network paths without a drive letter
- Fix: Incompatibility with another software prevented profile activation
- Fix: IPv6 activation error prevents further activation of settings
- Fix: New SMTP configurations were not saved correctly
- Fix: High-DPI adjustments for dialogs and tabs
- Fix (Pro): License registration issues in rare constellations
- Translation updates, fixes and adjustments
- Minor fixes and adjustments
5.0.3 - 2021-01-11

- Fix: Connecting net drives with user name and password failed
- Fix: Connecting to WiFi network by MAC address
- Fix: Saving a WiFi profile without encryption
- Fix: Settings in a profile without a selected NIC were not saved
- Fix: Incorrect tray icon animation after command line activation
- Fix: High-DPI issues with checkboxes
- Fix (Pro): Firefox profile file might not have been found
- Command line activation now updates the active profile in an
already running instance of the application
- Tray-Info now marks network adapters that are disconnected
- Minor fixes and adjustments
5.0.2 - 2021-01-01

- Fix: Deleting a profile while it's being renamed
- Fix: File dialog failed if file extensions were hidden in Explorer
- Fix: Configuration of first gateway metric was always reset to 0
- Fix: Profile activation on Windows logon screen
- Fix: WiFi connection error 5023 in certain constellations
- Fix: License text in preferences could be missing
- Fix (Pro): Double-click on license button opens dialog twice
- Translation updates
5.0.1 - 2020-12-23

- Fix: Mobile NICs could missing in the network adapters list
- Fix: Displayed information partially incorrect for newly available update
- Fix: After using auto-update there was no automated program restart
- Fix (Pro): Autorun was added twice
- Fix (Pro): Multiple License registration issues
5.0.0 - 2020-12-21

- NEW: Profile Management in Profile Tree!
Easier handling of profiles and groups in a tree structure
Drag&drop, copy&paste, multi-select, nested group hierarchy
Tooltips for profile settings, notes and AutoSwitch conditions
Searching/filtering profiles and groups
NC-Freeware can now also use groups and up to 8 profiles
- NEW: Settings file format is now XML instead of INI
No more limitation of exactly 6 profiles per group
Profile groups can now be nested within each other
"Atomic saving" prevents file corruptions even during system crash
- NEW: Carefully modernized UI retaining the familiar usability
Resizable window with additional profile overview at a certain width
Vertical menu for quick access to the main parts of the application:
Network profiles, WiFi Management, Network Tools and AutoSwitch
AutoSwitch can now be configured directly in each profile
Activation dialog displays all setting details that are applied
Dialogs can contain formatted text, images and links
IPv6 and WINS have been moved to the Advanced TCP/IP dialog (IP+)
- NEW: NetSetMan WiFi Management
Recreated from scratch, removing all previous limitations and errors
Additional info: MAC, channel, speed, protocols, etc.
Optional descriptions and colors for important wireless networks
- NEW: AutoSwitch Overview
- NEW: Modernized Tray-Info!
Modern design with glass/acrylic background and user color scheme
Can be displayed as an overlaying dialog with selectable text
Customizable content and zoom level with live preview
Content is automatically updated every 5 seconds
- NEW: Modern high resolution icon images
Almost 200 images recreated to support high-DPI screens
New NetSetMan logo!
- NEW: Auto-Update for downloading and installing new versions
- NEW: Automatic Network Adapter Management
List with available NICs is automatically updated at program start
Structured list with hardware, virtual and generic NICs
"Dynamic LAN/WiFi adapter" to auto-select a NIC at profile activation
- High-DPI compatibility with multi-monitor support
- Network bridges are now better supported
- Extended NetSetMan Administration with more options
- Multiple profiles can be activated with one command line call
- Command line activation now accepts profile names and even place holders
- Improved security with custom file dialog
- Lots of usability improvements, additional options and fixes
- Compatibility for Windows 10 version 20H2
IMPORTANT / BREAKING CHANGES:
- Dropping support for XP (incompatible) and Vista (untested)
Due to outdated APIs, these EOL Windows versions are no longer supported.
If you are on Windows Vista or older, please keep using NetSetMan 4.x.
- Settings file format and name changed from settings.ini to netsetman.xml
If you are accessing the file from a script, you will need to update it.
- Command line activation requires a new type of profile ID (see help file)
Due to the changed file structure, previous IDs have been replaced by
GUIDs. Copy them from tree context menu or directly from XML file.
- Some outdated translations have been removed:
Danish, Georgian, Hebrew, Indonesian, Malay, Swedish, Turkish, Vietnamese
Temporarily: Greek, Portuguese (Brazil), Ukrainian
If you would like to continue one of the languages and become an
official volunteer translator, please contact us.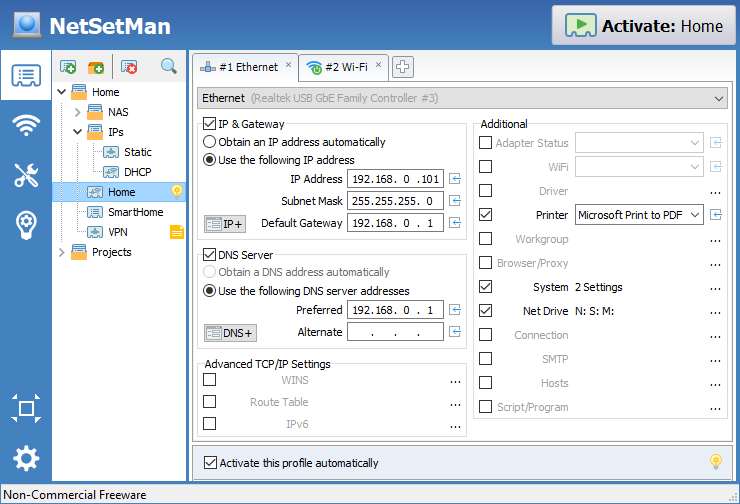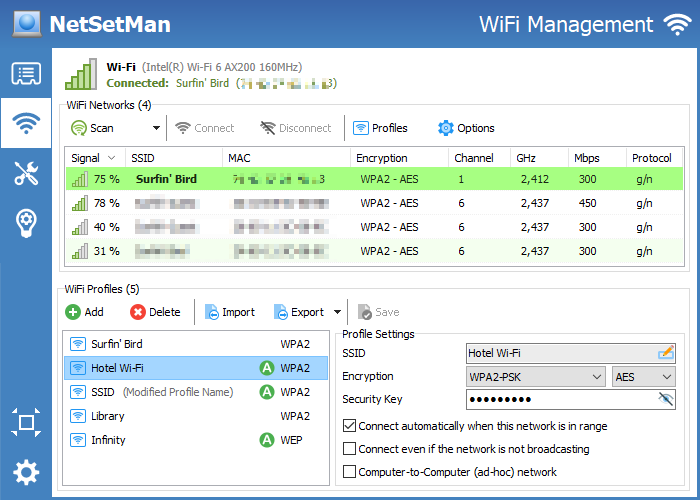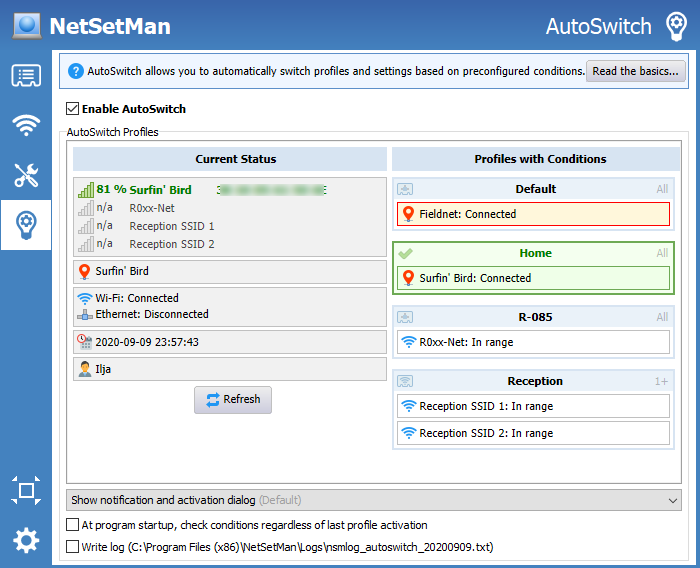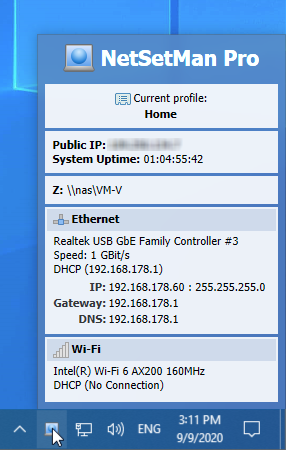 Download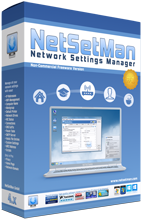 NetSetMan 5.0.6 (7MB)
3in1: Setup, Update & Portable in one file!
License: Non-Commercial Freeware
Release date: 2021-05-31
Language: Multilingual
For Windows: 7/8/10 (32/64 Bit)
Updating from version 4.x?
License
NetSetMan is Freeware for non-commercial use.
You may use NetSetMan for free as long as you don't save paid work time. Any commercial use (at work, company notebook, etc.) requires a NetSetMan Pro license.
For detailed information please refer to the NetSetMan Software License Agreement