Search for already answered questions about NetSetMan (Pro) or ask new ones
woodsb02

Member

Registered: 2019-02-16

Posts: 2
Adjust COM port settings
One of the settings we regularly need to adjust when moving a laptop between different systems is the COM port settings. It would be very helpful if these could be part of the "system settings" in a profile.
https://www.netsetman.com/en/help?hf=en#hf_system
COM port settings include:
- Bits per second (BAUD rate)
- Data bits
- parity
- stop bits
- flow control
Would you please consider adding this feature?
NetSetMan Support

Administrator

Registered: 2005-08-06

Posts: 1,498
Re: Adjust COM port settings
Please describe how you usually change those settings. Those seem to be driver-specific settings, which are always difficult to implement.
Also please describe your use case in detail: Why do you need to frequently change those settings? The better we understand your situation, the more likely we will consider adding those settings in the future.
Flow Control is a LAN settings and therefore included in the LAN/Adapter feature introduced in version 4.3.0):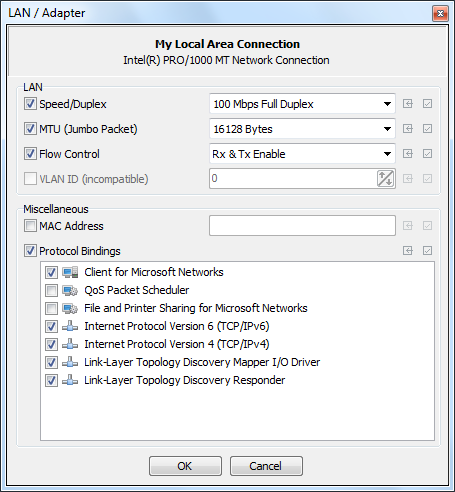 woodsb02

Member

Registered: 2019-02-16

Posts: 2
Re: Adjust COM port settings
My use case is when I am carrying a laptop to a new industrial control system, and may be connecting to it with Ethernet or Serial - it would therefore be good if this tool could set both in the profile.
However, this article suggests that these days the application you are using (including PuTTY) sets the COM port settings for you.
https://chirp.danplanet.com/projects/ch … In_Windows
Therefore, maybe this is not necessary.
Some references I found on the Microsoft website for interacting with the COM port settings:
https://docs.microsoft.com/en-us/window … _serports/
https://docs.microsoft.com/en-us/dotnet … work-4.7.2