NetSetMan 4.7.0
What's new in this version?
4.7.1 - 2018-08-16

- Compatibility for Windows 10 version 1803
- Fix: Exception errors with new TCP/UDP-Connections feature on some systems
- Fix: High-DPI adjustments for TCP/UDP-Connections toolbar and icons
- Minor bug fixes and improvements
4.7.0 - 2018-08-08

- NEW Tool: TCP/UDP Connections (IPv4 & IPv6)
- Windows Tools menu items can now be disabled in NSM Administration
- Tool "Adapters Details" now shows modified and original MAC addresses
- Fix: Version 4.6 had multiple issues with Windows XP
- Fix: Network Scanner remained enabled in Compact Mode even if
NSM Tools were disabled in NSM Administration
- Fix: Reassigning NICs in AutoSwitch conditions for copied ini file
- Fix: Combining multiple error messages in NSM WiFi Management
- Fix: Global AutoSwitch options remained active with disabled AutoSwitch
- Fix: Error message in System Settings when changing the computer name

Download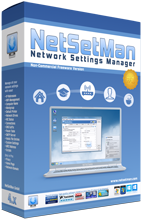 NetSetMan 4.7.1 (4MB)
3in1: Setup, Update & Portable in one file!
License: Non-Commercial Freeware
Release date: 2018-08-16
Language: Multilingual
For Windows: XP/Vista/7/8/10 (32/64 Bit)
Updating from version 3.x?
License
NetSetMan is Freeware for non-commercial use.
You may use NetSetMan for free as long as you don't save paid work time. Any commercial use (at work, company notebook, etc.) requires a NetSetMan Pro license.
For detailed information please refer to the NetSetMan Software License Agreement