NetSetMan 4.3.3
What's new in this version?
4.3.4 - 2017-02-07

- NEW: AutoSwitch Condition "User Name" that allows automatically switching
profiles based on the logged on Windows user
- NEW: Export/Import profile groups
- NEW: Possibility to view the passwords of all locally stored WiFi profiles
- Fix: Restore profile and group selection on program start
- Fix: Updating position of Logon Icon if screen resolution changes
- Fix: Updating caption of subprofiles
- Fix: Some Drag&Drop issues in Network Adapter Management
- Minor improvements for NSM WiFi Management
- Importing settings/profiles/groups now automatically creates a backup
- Empty values aren't written to the settings file anymore to reduce file size
- If a required default certificate isn't available, it's automatically installed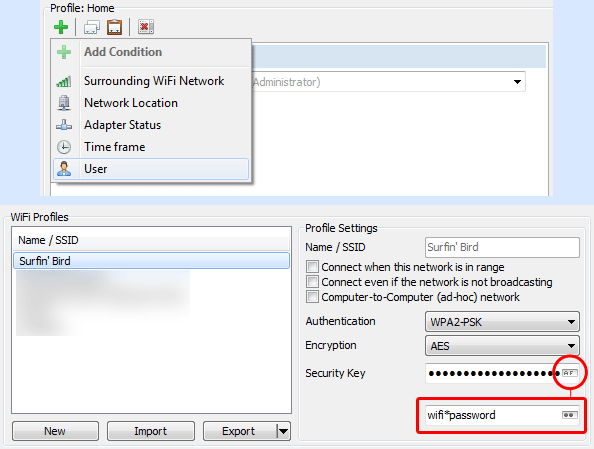 4.3.3 - 2017-01-17

- HotFix for 4.3.2: Error when activating Proxy, Connections or IPv6
4.3.2 - 2017-01-17

- NEW: AutoSwitch option "Disable WiFi when LAN connected, otherwise enable it"
- NEW: AutoSwitch WiFi network condition "Connected/Disconnected"
- Fix: Connection speed for disconnected devices now shown as not available
- Fix: Handling incompatble wireless adapters in NSM WiFi Management
- Fix: AutoSwitch could be executed multiple times causing different problems
- Adding a custom SSID in AutoSwitch now allows selecting stored WiFi profiles
- A lot of fine-tuning for AutoSwitch
- Extended compatibility for new LAN/Adapter feature (VLAN-ID, MTU, etc.)
- Deleting items in lists now possible with DEL key
- After deleting a list item the next item is now automatically selected
- NSM WiFi Management has now its own icon in the task bar
- Improved IP-Edits: Copy/Paste complete IPv4 addresses (CTRL+C/V),
arrow keys navigation, navigating between different IP-Edits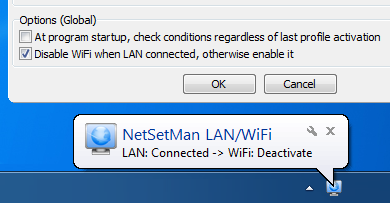 4.3.1 - 2016-11-22

- NEW: Advanced Tray-Info configuration in Preferences menu
- NEW: Optional details in Tray-Info:
IPv6, connection speed, system uptime, network drives, etc.
- NEW: Show/Hide different types of network adapters in Tray-Info:
Disconnected/Disabled/Virtual Adapters, Connections (PPP, VPN, ...)
- Fix: Rare "BusType" error on systems with an incompatible driver setting
- Fix: Optional auto-close of Activation dialog
- Fix: Copy/Paste icons in AutoSwitch
- New menu item: "Automatically activate this profile at this location"
Cursor animation shows how to use the AutoSwitch feature for new users
- New Net Drive menu button for getting currently mapped network drives
- MAC addresses now with hyphens instead of colons (11-22-33-44-55-66)
- Some optimizations for reading network adapters and their settings
- Translation updates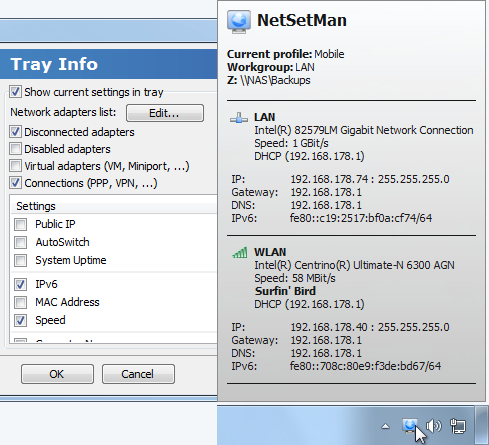 4.3.0 - 2016-11-08

- NEW: LAN / Adapter settings
These settings are driver-specific. The current implementation
is compatible with most but possibly not all common NICs.
If yours isn't compatible, please get in contact with us.
- NEW: Speed & Duplex
- NEW: MTU (Jumbo Packet)
- NEW: Flow Control
- NEW: VLAN ID (compatible if integrated directly in Windows NIC preferences)
- NEW: Protocol Bindings
Enable/disable network adapter protocols (IPv6/4, File Sharing, ...)
- Rearranged several items on the main UI,
Computer Name moved from main UI to System settings,
MAC Address moved from System to Adapter settings
- Fix: Width of time input fields in AutoSwitch for AM/PM time format
- Fix: TrayInfo fade in/out speed on slow systems
- Fix: Selection order in System Settings when using the TAB key
- Fix: NIC names including an ampersand character in Compact Mode
- Fix: Get Workgroup through right-click context menu in NC-Freeware
- New internal procedures for retrieving network adapter settings
- New progress and result indicator for "Apply Now"-buttons
- Net Drive now also disconnects mappings that have no drive letter
- Activation dialog and cancelling profile activation improved
- Several optimizations for Preferences dialog
- Lots of minor fixes and adjustments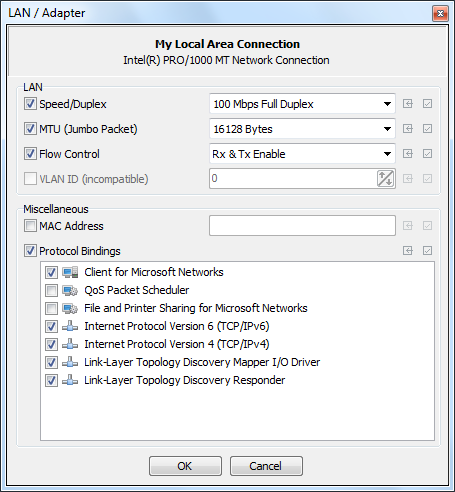 Download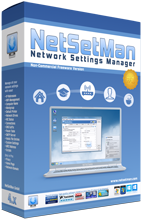 NetSetMan 5.1.1 (7MB)
3in1: Setup, Update & Portable in one file!
License: Non-Commercial Freeware
Release date: 2022-02-15
Language: Multilingual
For Windows: 7/8/10/11 (32/64 Bit)
Updating from version 4.x?
License
NetSetMan is Freeware for non-commercial use.
You may use NetSetMan for free as long as you don't save paid work time. Any commercial use (at work, company notebook, etc.) requires a NetSetMan Pro license.
For detailed information please refer to the NetSetMan Software License Agreement