NetSetMan 4.7.1
¿Qué hay nuevo en esta versión?
4.7.1 - 2018-08-16

- Compatibility for Windows 10 version 1803
- Fix: Exception errors with new TCP/UDP-Connections feature on some systems
- Fix: High-DPI adjustments for TCP/UDP-Connections toolbar and icons
- Minor bug fixes and improvements
4.7.0 - 2018-08-08

- NEW Tool: TCP/UDP Connections (IPv4 & IPv6)
- Windows Tools menu items can now be disabled in NSM Administration
- Tool "Adapters Details" now shows modified and original MAC addresses
- Fix: Version 4.6 had multiple issues with Windows XP
- Fix: Network Scanner remained enabled in Compact Mode even if
NSM Tools were disabled in NSM Administration
- Fix: Reassigning NICs in AutoSwitch conditions for copied ini file
- Fix: Combining multiple error messages in NSM WiFi Management
- Fix: Global AutoSwitch options remained active with disabled AutoSwitch
- Fix: Error message in System Settings when changing the computer name

Descargar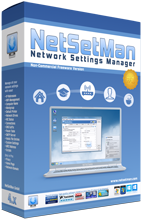 NetSetMan 4.7.1 (4MB)
3in1: ¡Instalación completa, actualizaciones y NetSetMan portabilidad en un mismo fichero!
Licencia: Freeware no comercial
Fecha de lanzamiento: 2018-08-16
Idioma: Multilingual
Para Windows: XP/Vista/7/8/10 (32/64 Bit)
Actualización de la versión 3.x?
Licencia
NetSetMan es freeware para uso no-comercial.
Puede usar NetSetMan de forma gratuita, siempre que no se ahorre tiempo de trabajo pagado. Cualquier uso comercial (en el trabajo, portátil de empresa, etc.) requiere una licencia de NetSetMan Pro.
Para más información, consulte NetSetMan - Contrato de Licencia de Software