NetSetMan 4.7.2
Cosa c'è di nuovo in questa versione?
4.7.2 - 2019-11-08

- Compatibility for Windows 10 version 1909
- Fix: Buffer Overflow vulnerability in Workgroup feature
- Fix: DEP key in WiFi Management was missing the last character
- Fix: VPN profile recognition for some third party VPN clients
- Fix: Accessing private VPN profiles with a restricted user account
- Fix (Pro): Repeated license activation in some cases
- Fix (Pro): Command line uninstallation with enabled NSM Administration
- Fix (Pro): License deregistration issue in rare cases
4.7.1 - 2018-08-16

- Compatibility for Windows 10 version 1803
- Fix: Exception errors with new TCP/UDP-Connections feature on some systems
- Fix: High-DPI adjustments for TCP/UDP-Connections toolbar and icons
- Minor bug fixes and improvements
4.7.0 - 2018-08-08

- NEW Tool: TCP/UDP Connections (IPv4 & IPv6)
- Windows Tools menu items can now be disabled in NSM Administration
- Tool "Adapters Details" now shows modified and original MAC addresses
- Fix: Version 4.6 had multiple issues with Windows XP
- Fix: Network Scanner remained enabled in Compact Mode even if
NSM Tools were disabled in NSM Administration
- Fix: Reassigning NICs in AutoSwitch conditions for copied ini file
- Fix: Combining multiple error messages in NSM WiFi Management
- Fix: Global AutoSwitch options remained active with disabled AutoSwitch
- Fix: Error message in System Settings when changing the computer name

Download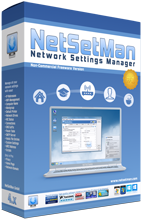 NetSetMan 4.7.2 (4MB)
3in1: Installazione completa, aggiornamento e NetSetMan portatile in un file!
Licenza: Freeware non commerciale
Data di uscita: 2019-11-08
Lingua: Multilingual
Per Windows: XP/Vista/7/8/10 (32/64 Bit)
Aggiornamento dalla versione 3.x?
Licenza
NetSetMan è freeware per uso non commerciale.
Puoi usare NetSetMan gratuitamente finché non risparmi ore di lavoro retribuite. Qualsiasi uso commerciale (sul lavoro, su un notebook aziendale ecc.) necessita di una licenza NetSetMan Pro.
Per informazioni dettagliate, fare riferimento al NetSetMan - Contratto di licenza software