NetSetMan 5.1.1
O que há de novo nesta versão?
5.1.1 - 2022-02-15

- New: Context menu in WiFi Management for quick access to Enable/Disable
- New: Context menu in WiFi/AutoSwitch for quick log file/folder access
- Fix: Program settings might not have been saved after being changed
- Fix: Connected WiFi network possibly not displayed in TrayInfo
- Fix: System/Firewall status not applied correctly
- Fix: Download button in Update dialog inactive in certain constellations
- Fix: Update process for restricted user accounts
5.1.0 - 2022-02-05

- Windows 11 compatibility (21H2 build 22000)
- NEW: WPA3 and 802.11ax support for WiFi6 networks and profiles
- NEW: Unicode support for WiFi SSIDs (displaying, creating, connecting)
- NEW: Optional monochrome/outline style for tray icon (-> Preferences/Tray)
- NEW: "Refresh" item at the end of the network adapters list
- Fix: Performance issue in Windows 11 after accessing TrayInfo
- Fix: No more writing to settings file during shutdown to prevent rare data loss
- Fix: Connecting to a WiFi network with Error 87 in very rare cases
- Fix: Incomplete information for WiFi setting during profile activation
- Fix: Firewall notification and exceptions settings
- Fix: Automatic High-DPI scaling of icons in TrayMenu
- Fix: High-DPI scaling for profile tabs was incorrect in certain constellations
- Fix: Tray icon resolution with multiple monitors with different DPI settings
- Fix: StrongestSignalSwitch option with more than one wireless network adapter
- In TrayInfo the MAC address now also includes the original value if it was modified
- The Retry option on the activation dialog is now integrated in the split-button
- Improved compatibility with certain types of virtual and external network adapters
- Improved upgrade from version 4.x by ignoring empty profiles
- Improved compatibility of VLAN-ID for different types of network adapters
- Improved file dialogs with High-DPI support and other optimizations
- Reduced file size by 10%
- Lots of minor fixes and adjustments

Baixar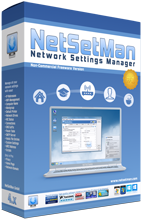 NetSetMan 5.1.1 (7MB)
3in1: Instalação Completa, Atualização e NetSetMan Portabilidade num único ficheiro!
Licença: Freeware Não-Comercial
Data de lançamento: 2022-02-15
Idioma: Multilingual
Para Windows: 7/8/10/11 (32/64 Bit)
Atualização da versão 4.x?
Licença
NetSetMan é freeware para uso não-comercial.
Poderá utilizar NetSetMan gratuitamente, desde que não esteja a poupar tempo de trabalho pago. Qualquer utilização comercial (no trabalho, portátil da empresa, etc.) requer uma NetSetMan Pro licença.
Para obter informações detalhadas, por favor consulte o NetSetMan - Acordo de Licença de Software