NetSetMan 4.7.2
O que há de novo nesta versão?
4.7.2 - 2019-11-08

- Compatibility for Windows 10 version 1909
- Fix: Buffer Overflow vulnerability in Workgroup feature
- Fix: DEP key in WiFi Management was missing the last character
- Fix: VPN profile recognition for some third party VPN clients
- Fix: Accessing private VPN profiles with a restricted user account
- Fix (Pro): Repeated license activation in some cases
- Fix (Pro): Command line uninstallation with enabled NSM Administration
- Fix (Pro): License deregistration issue in rare cases
4.7.1 - 2018-08-16

- Compatibility for Windows 10 version 1803
- Fix: Exception errors with new TCP/UDP-Connections feature on some systems
- Fix: High-DPI adjustments for TCP/UDP-Connections toolbar and icons
- Minor bug fixes and improvements
4.7.0 - 2018-08-08

- NEW Tool: TCP/UDP Connections (IPv4 & IPv6)
- Windows Tools menu items can now be disabled in NSM Administration
- Tool "Adapters Details" now shows modified and original MAC addresses
- Fix: Version 4.6 had multiple issues with Windows XP
- Fix: Network Scanner remained enabled in Compact Mode even if
NSM Tools were disabled in NSM Administration
- Fix: Reassigning NICs in AutoSwitch conditions for copied ini file
- Fix: Combining multiple error messages in NSM WiFi Management
- Fix: Global AutoSwitch options remained active with disabled AutoSwitch
- Fix: Error message in System Settings when changing the computer name

Baixar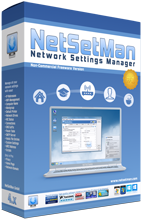 NetSetMan 4.7.2 (4MB)
3in1: Instalação Completa, Atualização e NetSetMan Portabilidade num único ficheiro!
Licença: Freeware Não-Comercial
Data de lançamento: 2019-11-08
Idioma: Multilingual
Para Windows: XP/Vista/7/8/10 (32/64 Bit)
Atualização da versão 3.x?
Licença
NetSetMan é freeware para uso não-comercial.
Poderá utilizar NetSetMan gratuitamente, desde que não esteja a poupar tempo de trabalho pago. Qualquer utilização comercial (no trabalho, portátil da empresa, etc.) requer uma NetSetMan Pro licença.
Para obter informações detalhadas, por favor consulte o NetSetMan - Acordo de Licença de Software