NetSetMan 4.6.0
What's new in this version?
4.6.0 - 2017-11-29

- NEW: "Public DNS Servers" list for quick access from the DNS context menu
Prefilled with the most common DNS servers, but fully customizable
- New method for the IPv6 feature for reading the current addresses
- Compatibility for Windows 10 version 1709 ("Fall Creators Update")
- Fix: WiFi debug file removed
- Fix: Skip delay if a program that is set to "Run once" is already running
- Fix: MAC address format in LAN/Adapter dialog
- Fix (Pro): Updating prepared NICs in settings file with NICLabel only
- Lots of minor fixes and adjustments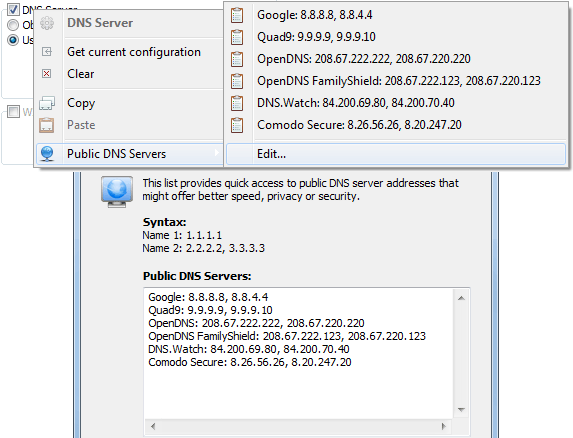 Download

NetSetMan 4.6.0 (4MB)
3in1: Setup, Update & Portable in one file!
License: Non-Commercial Freeware
Release date: 2017-11-29
Language: Multilingual
For Windows: XP/Vista/7/8/10 (32/64 Bit)
Updating from version 3.x?
License
NetSetMan is Freeware for non-commercial use.
You may use NetSetMan for free as long as you don't save paid work time. Any commercial use (at work, company notebook, etc.) requires a NetSetMan Pro license.
For detailed information please refer to the NetSetMan Software License Agreement