NetSetMan 4.5.0
What's new in this version?
4.5.0 - 2017-08-15

- NEW Tool: Network Scanner
Scan networks by IP range (IPv4 & IPv6), subnet (CIDR), ARP & NDP cache
Get details like name, MAC, domain/workgroup, OS, network shares, etc.
Multithreading for scanning large numbers of IPs simultaneously
Highly compatible and flexible by using new and old protocols
Copy details, open targets, export results, send Wake-On-LAN
Favorites list for customizing frequently used targets
Detailed information of network printers (shared or directly connected)
Real-time search filter for all results
Further details:
www.netsetman.com/network-scanner
- Fix: Some setup parameters have been ignored
- Fix: Minimizing application didn't save profile changes
- Fix: Pressing ENTER in IP fields resulted in an error message
- Fix: High-DPI problems (query dialogs, AutoSwitch menu items click area)
- Fix: Firefox Proxy is now also available for user-specific installations
- Fix: Autorun in Preferences dialog not showing its state correctly
- Fix: Multiple memory leaks
- Tool "Adapters Details" is now sorted by type and name
- Lots of minor fixes and adjustments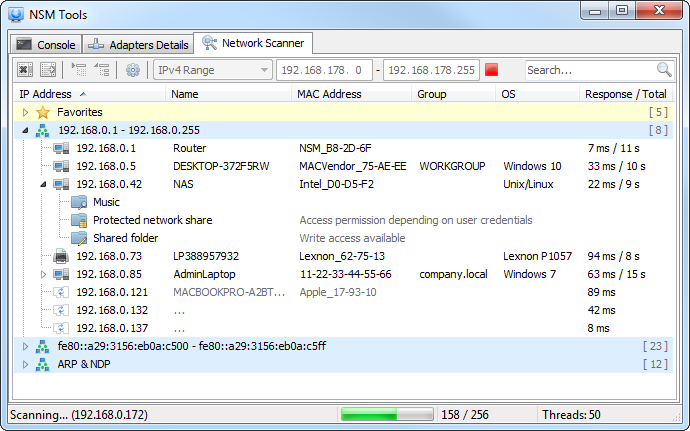 Download

NetSetMan 4.5.0 (4MB)
3in1: Setup, Update & Portable in one file!
License: Non-Commercial Freeware
Release date: 2017-08-15
Language: Multilingual
For Windows: XP/Vista/7/8/10 (32/64 Bit)
Updating from version 3.x?
License
NetSetMan is Freeware for non-commercial use.
You may use NetSetMan for free as long as you don't save paid work time. Any commercial use (at work, company notebook, etc.) requires a NetSetMan Pro license.
For detailed information please refer to the NetSetMan Software License Agreement